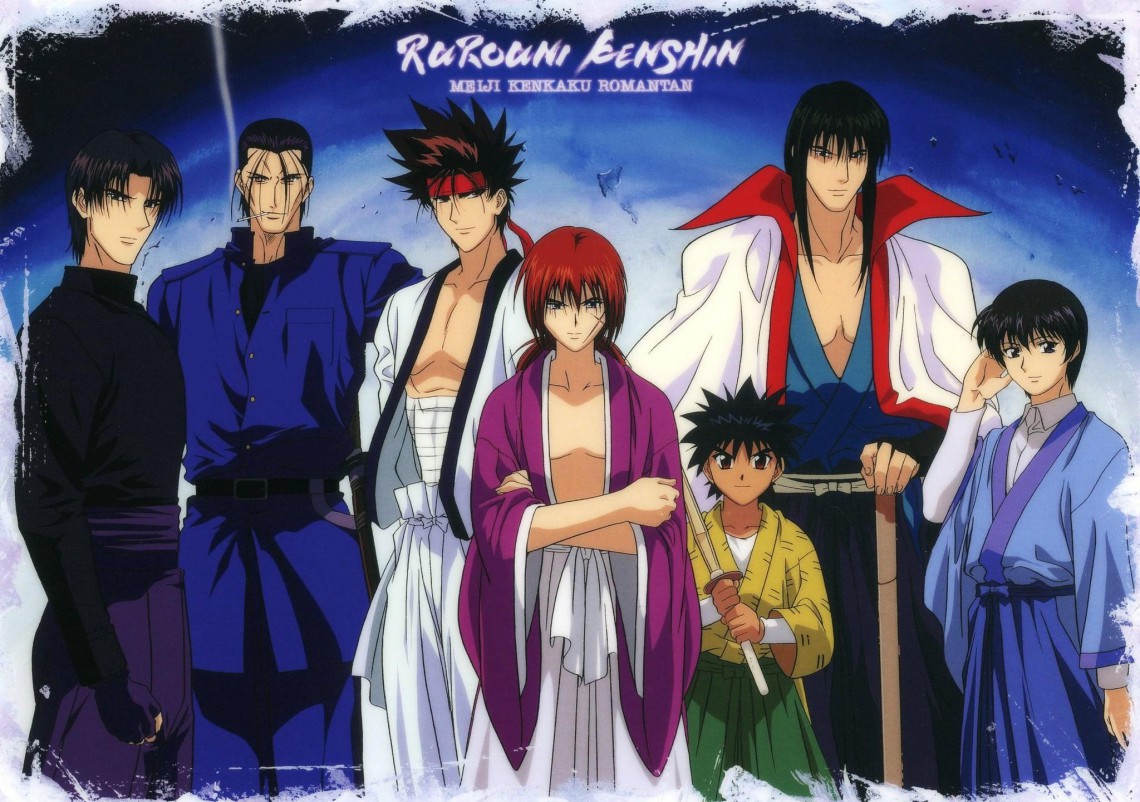 Rurouni Kenshin / Samurai X
Rurouni Kenshin tells the story of Hitokiri Battōsai "The manslayer"
After years of being the Battōsai Kenshin try's to leave his past behind and start a life of a wandering samurai.
The thing is he no longer wishes to harm anyone, so he now holds with him a sakabatō Katana "reverse blade sword" that is near on imposable to kill someone with, he goes around helping though in need and then one day he meets Kamiya and she starts to get him involved in the running of her Dojo
All in all a very enjoyable Anime that spans OAV/TV/ and live action film and not to mention that I may have cosplayed one of the characters in this Anime
Rurouni Kenshin: Meiji Swordsman Romantic Story (Japanese: るろうに剣心 -明治剣客浪漫譚- Hepburn: Rurōni Kenshin Meiji Kenkaku Romantan?),[1] also known as Rurouni Kenshin and Samurai X, is a Japanese manga series written and illustrated by Nobuhiro Watsuki. The story takes place during the early Meiji period in Japan and follows a former assassin from the Bakumatsu, named Himura Kenshin, who becomes a wanderer to protect the people of Japan. Watsuki wrote this series upon his desire of making a shōnen manga different from the other ones that were published at the time, with Kenshin being a former assassin and the story taking a more serious tone as it continued. The manga revolves around themes of atonement, peace, and romance.
The manga initially appeared in Shueisha's Weekly Shōnen Jump from April 11, 1994, to November 4, 1999. The complete work consists of 28 tankōbon volumes, while years later it was reprinted into twenty-two kanzenban volumes. Studio Gallop, Studio Deen and SPE Visual Works adapted the manga into an anime series which aired in Japan from January 10, 1996 to September 8, 1998. Besides an animated feature film, two series of original video animations (OVAs) were also produced. The first adapted stories from the manga that were not featured in the anime, while the second was a sequel to the manga. Several art and guidebooks for Rurouni Kenshin have been published and writer Kaoru Shizuka has authored three official light novels which were published by Shueisha. Many video games have also been released for the PlayStation, PlayStation 2, and PlayStation Portable consoles. A successful live-action theatrical film adaptation was released in 2012, with limited international screenings.
The manga, as well as the first light novel and first guidebook, has received a complete North American release by Viz Media. Rurouni Kenshin is subtitled "Wandering Samurai" in some English releases. The TV series was later licensed in North America and released on DVD by Media Blasters. The first two seasons aired on the United States Cartoon Network as part of the Toonami block, while the third season was only featured on DVD. The English-language versions of the OVAs, as well as the film, were originally released as Samurai X in North America, although the original name was included on the later DVD and Blu-ray Disc releases.
The Rurouni Kenshin manga has sold over 55 million copies in Japan as of 2012, while its anime has ranked among the 100 most watched series in Japan multiple times. The series has received praise and criticism from various publications for manga, anime and other media, with both having received good response on the characters' designs and historical setting.