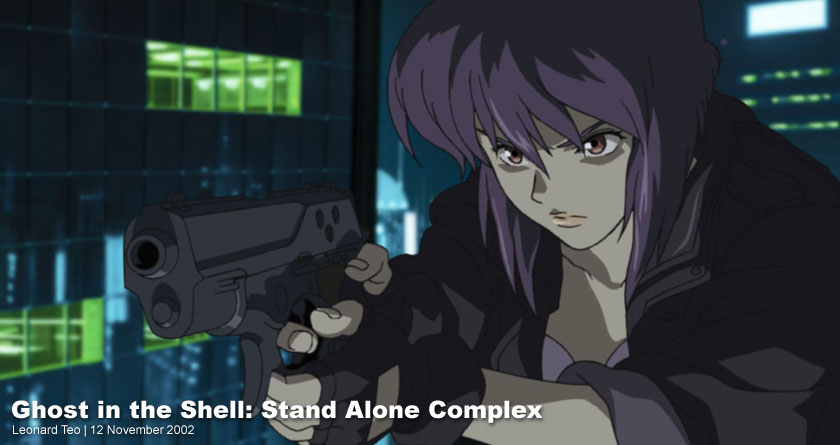 Ghost in the shell stand alone complex
Today we have Ghost in the shell stand alone complex
I really need to watch season 2 of this Anime as every episode tells a different story's of the peoples living in a future where becoming cyborgs is becoming normal.
The story follows a group called Public security Section 9, Paz, Borma, Saito, Batou, Motoko, Togusa, Aramaki, and Ishikawa, as they solve crime in Niihama
But is there something else that's trying to take over? in this world of cyborgs will you be hacked?
Here is the opening by amazing singer Origa "more in her later"
Ghost in the Shell: Stand Alone Complex (攻殻機動隊 STAND ALONE COMPLEX Kōkaku Kidōtai STAND ALONE COMPLEX?) is an anime television series produced by Production I.G and based on Masamune Shirow's manga Ghost in the Shell. It was written and directed by Kenji Kamiyama, with original character design by Hajime Shimomura and a soundtrack by Yoko Kanno. The first season aired on SKY PerfecTV!'s Perfect Choice from October 2002 to October 2003 and was positively received by critics. A second season titled Ghost in the Shell: S.A.C. 2nd GIG (攻殻機動隊 S.A.C. 2nd GIG Kōkaku Kidōtai S.A.C. 2nd GIG?) aired on Animax from January 1, 2004 to January 8, 2005.
The series centers on the members of an elite cybernetic law enforcement unit known as Public Security Section 9 as they investigate cyber-crime and terrorism cases; these cases often are connected to their pursuit of an elite "Super Class A" hacker and corporate terrorist known as "The Laughing Man." A series of associated short comic animations, titled Tachikomatic Days, aired after each episode. These shorts star the Tachikoma "think-tanks" from the main series, and they typically relate directly to the story of the preceding Stand Alone Complex episode.
The first season was also adapted into a feature-length OVA titled The Laughing Man, which was released in 2005 and two manga series in 2009. The series had also received video game spin-offs for the PS2, PSP, and mobile phones. 2nd GIG was also later adapted into a feature-length OVA entitled Individual Eleven, which was released in 2006; Solid State Society, a TV-film sequel to the Stand Alone Complex series, was also released in that year.