Hey All!
Colum here with an update on what Toko-Retreat plan to bring to Tokonatsu this year to help bring a little bit extra to the already awesome that Tokonatsu already is!
There are still some things to iron out, but we are looking at providing the following activities that will be hosted in the Marquee for the Anime that has previously been mentioned by Mike.
The Theme is going to be the house Animals and you may choose to draw any, some or all of the four animals in any way you can imagine (keep it clean though! Site rules apply 😉 )
Full Rules will be disclosed on the day.
Again, the time slot will be 1 hour in which you get to come up with a short story submission.
On the day, we will provide a Theme, Setting and a special "something" that will need to be incorporated into your story somehow. Again same rules apply, keep it clean, and don't submit anything that you think wouldn't be appropriate for the festival.
Full Rules will be disclosed on the day.
Toko-Retreat Cards Against Humanity: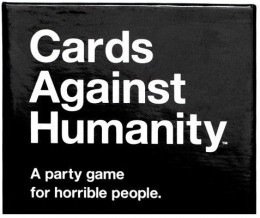 At Registrations we will be handing out blank Cards Against Humanity Cards. We then would like you to write something Toko-Theme'd on it, in the fashion of the game, and hand the cards back to us.
We will then have Con-Goers participate with the deck built from submissions, and the funniest entries will win a prize (as judged by the players, and a set of judges that will play the game separately).
If you miss us at Registrations, you can catch us at our tents, or around the con during the weekend leading up to the play through of the deck.
Keep your entries in the spirit and light of the original game. We understand that content here might stray outside the PG-13 mark, so only those with valid ID and can proof they are over 18 will be permitted to play the game. We hope you understand this is for the best, and to protect the younger audiences of the festival.
We plan to have our own schedule printed to hand out at registrations so you know what we have going on, and when, so if anything changes from now till then, you'll know about it.
Barring the Anime that will run Friday through to Sunday, the above events will all be run on the Saturday.
We look forward to seeing you there, travel safe!
~ Colum